#4 - Intentional Technical Leadership
Newsletter - Saturday, 30 April 2022
Hallo my friend!
Welcome to another issue of the Intentional Technical Leadership newsletter.
I hope you've had a great week and have been considering some different ways of working with your team.
Here are some more interesting stories that I've found for you this week.
🔖 Interesting Reading
I've been thinking a lot about how remote work can be more intentional and this Seth Godin article hits home with something that's always bothered me. 😡
The idea that you become more connected as a team by being in the same place and having those "water cooler moments" of conversation.
I disagreed with a colleague around a story where he happened to find out some important information because he happened to be in the kitchen making a cup of tea at the right time. In my mind, being public and writing down the information would have been more valuable for the whole team and not just for one person who happened to time his hot drink for when the CTO was in the kitchen.
Serendipity shouldn't be a key factor for dismissing remote work!
Seth's article shares some ideas of how we can make remote working more intentional.
If you're thinking of a move from an Individual Contributor (IC) engineering role into engineering management then this is a great read.
When I first started my role as a team lead at the BBC, it wasn't clear to me what my role was. Was it technical? Was it about growing my team members? Should I be more focused on product or the technical details?
This article shares some great insights into the sort of work you could be looking at. It breaks the Engineering Manager (EM) role down into:
People
Delivery
Engineering
Product
Remote
Read the article and use it to consider your strengths, weakness, and enjoyment of each area to see how you can mould your role around your areas of expertise. You can also look at areas which you might want to grow too.
As you'll see from this week's "Hot Take" (below), some companies might expect everything! 🙈
As I learn more about working remotely, I want to become better at asynchronous ways of working. Teams who first experience remote working often head towards "more meetings but on Zoom".
This is a great article by Marissa Goldberg who shares some ideas about not always having a synchronous meeting. In it she talks about:
The key benefits of synchronous work - speed and connection.
Ideas for asynchronous work without requiring team members to be available at the same time and place.
I love the trade off and discuss and when face-to-face communication is beneficial versus working collaboratively but not at the same time.
There's lots to learn in this blog post
🎧 Great Listening
This is a wonderful "Developing Leadership" podcast episode with Katie Wilde, the ex-VP Engineering Buffer and now VP of Engineering for Ambassador Labs.
In it she talks about moving from a Holacracy, a method of decentralised management with distributed authority, back to one of strong leadership and hierarchy. It's an interesting story and a concept of self-organising teams which I was unfamiliar with.
In it she discusses building technical leadership through regular 1:1s, which you know I'm a big fan of, and managers taking responsibility for a healthy team climate.
Listen to this for more tips on improving your management skills.
👋🏻 One From Me
This is an article I wrote last year and something I firmly believe in - "Lifting your team up".
I love nothing better than being the loudest cheerleader for my team and connecting with the right opportunities to grow.
Have a read of my article where I share what I do to help my team members.
🌶️ Hot Take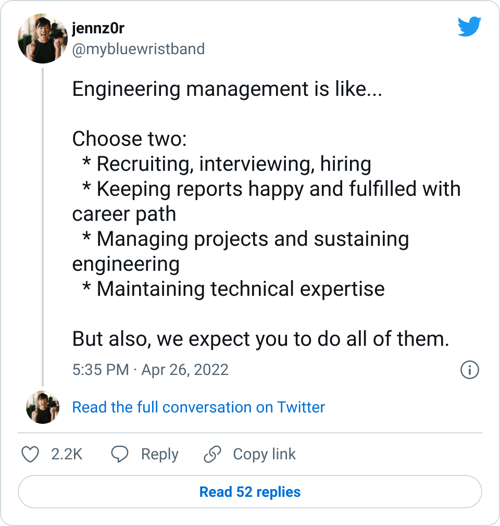 A lovely, spicy hot-take to finish off this week's newsletter.
In relation to the earlier article about what an Engineering Manager does, this tweet really resonated with me. Some companies have an expectation that an EM can do "all the things".
You can do everything but you'll probably do them all badly.
In my mind, you should choose your areas of expertise and concentrate on those.
You won't have enough time or mental capacity to do everything. Learning to delegate the right things to empower your team is a skill you have to learn.
I hope you've learnt something new this week as I always do.
I've had a few people reach out to me this week and say they signed up for the newsletter or they've learnt from last week's. This is so lovely to hear and I hope I'm helping you as much as these tips are helping me.
Hit reply and tell me what you found most useful.
Feel free to send me any interesting articles or podcasts you've found too. I ❤️ it when people email me.
Speak to you soon,
Marc
P.S. I'd love it if you could share this newsletter with 2 friends who are interested in learning more about technical leadership. 😍
Not signed up?
Enter your email below to sign up for my newsletter to receive weekly articles. Each week you will learn more about technical leadership, intentional remote working, and growing your leadership career.