#10 - Intentional Technical Leadership
Newsletter - Saturday, 11 June 2022
What's up my friend?!
Happy Saturday! 🎉
Welcome to another issue of the Intentional Technical Leadership newsletter.
This week I've been connecting with my new team and finding out more about them with some 1:1 ("one-to-one" or "one-on-one") meetings. These are the most important meetings in my week. It allows me to help with any issues or worries that they might have and to help to build stronger trust and bonds with each person.
Here are some of this week's technical leadership blog posts that I've found.
🔖 Interesting Reading
I've been working in a remote-first way since 2015 as I helped to build a culture of remote working in my team at the BBC.
We started to experiment with asynchronous ways of working before the pandemic but its sometimes hard to get the wider department to start writing instead of going straight to a meeting.
This insightful article from the James Stanier, Director of Engineering at Shopify, discusses their move from synchronous online meetings to their new approach of asynchronous written communication.
You'll find lots of actionable ideas in this article if you're moving towards a new way of working with your team. I know I'm going to take a lot from it.
This article discusses how we can enable teams to do their best work whilst maintaining autonomy.
Nobody in a team likes to be micromanaged, and this article shares some ideas for building high-performing teams through trust and transparency.
Reading through this it really resonated with my own values as an engineering manager.
Empower your teams by providing the right support to allow them to thrive.
If you're not aware of Charity Majors, then you've not been on the internet for long enough. She's the co-founder and CTO of Honeycomb.io, a fantastic observability platform, and is someone with strong views on engineering management.
In this article she shares her thoughts about the transition from an individual contributor (IC) role into management and whether you can ever transition back again.
Being in a technical leadership role is very different than a software engineering role and you have to understand that if you decided to do it. However, there's no reason that you can't transition back again if you're unhappy.
Read the article if you're thinking of moving into, or back out of, an engineering management role.
In our weekly technical leadership meeting between Engineering Managers at Netlify, we had a great discussion about challenging conversations.
This is a skill you'll really need to work on if you step into a management role. As much as you want everyone to succeed, sometimes a team member might be struggling and you'll be responsible for talking to them.
This post shares a strategy for approaching difficult conversations with people. It's always good to have a framework that can help if you're less comfortable with difficult conversations.
In joining Netlify, I'm working with some great software engineers and technical leaders from around the world.
As I mentioned above, we have a weekly leadership meeting where 7 or 8 engineering managers or directors get together to help each other.
One of our Senior Engineering Managers had previously worked at New Relic, and the meeting is roughly based around their "Mini M" format.
I've found it really helpful so far and this article from the New Relic blog, shares the idea behind them.
🌶️ Hot Take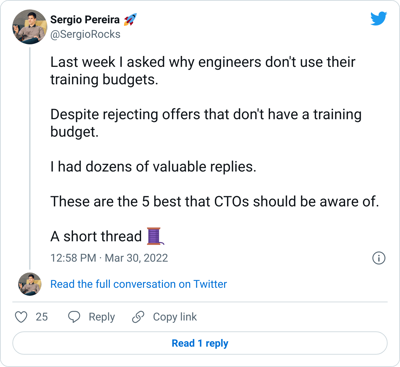 Thanks to Adrien Rahier for sharing this week's hot take.
This is a great Twitter thread on why software engineers aren't using their training budgets.
I've definitely seen some of these things happen in my previous roles. Leading by example as a manager is a great way to encourage your team to start learning too.
At the BBC, I ensured that the team had time blocked out in their calendars for self-learning. It's key to their own development and career growth.
Does it resonate with you?
Do you need to change how you think about your team's training?
---
I hope you enjoyed this week's selection of intentional technical leadership articles.
Hit reply and let me know what you think.
Feel free to send me any interesting articles or podcasts you've found too.
Have an amazing week and be excellent to each other!
Speak to you soon,
Marc
Not signed up?
Enter your email below to sign up for my newsletter to receive weekly articles. Each week you will learn more about technical leadership, intentional remote working, and growing your leadership career.