#13 - Intentional Technical Leadership
Newsletter - Saturday, 2 July 2022
Hello my friend!
Happy Saturday! 🎉
Welcome to another issue of the Intentional Technical Leadership newsletter.
How's your week been? Life has been tough for many people recently so I hope you're doing ok and looking after yourself.
I'm starting to settle into my new role but I still have hundreds of questions to ask each week. Whenever anyone joins my team, or I join a new team, it's good to be clear that it's ok to not know things. I always like to say that "there's no such thing as a silly question".
One of the senior engineers on my old team at the BBC used to share this great Gov.uk blog post with our new starters. I think you'll like it - It's ok to say what's ok
On to this week's articles. 👇🏻
🔖 Interesting Reading
As many software engineering roles head towards remote work as being the new normal, we need to think about how we communicate.
It's easy to fall back to regular meetings and video calls but is there a better way?
This article shares some interesting thoughts on how asynchronous writing can help to solve some of the issues with synchronous communication.
This is definitely an interesting subject for me as I'm now working with a team that spans 2 time zones.
I've had a few people contact me and say they're just moving into a management role and would like to know more about 1:1s.
This is a great blog post which shares a 1:1 template and some example questions you can use when you start to have regular meetings with your own team.
My 1:1s are often not as prescriptive but I do take notes each week and ask my team to use a shared agenda document. Each week we both write down what we want to discuss in that week's session. A shared document is a great way for us both to see the topics that we are going to talk about in advance.
Let me know if the template is helpful. Is there anything else you'd like to know about 1:1s?
If you're reading any articles on technical leadership then you've probably read some of Gergely Orosz' articles. His Pragmatic Engineer website and newsletter has some great insights into the life of a technical leader and the challenges we face.
This blog post shares some really actionable tips for anyone transitioning from an individual contributor (IC) to an engineering management role.
Read this and take notes even if you're already an experienced engineering leader.
This is a really insightful look at how to improve your reporting as an engineering manager.
I have to admit that this is an area that I could do with improving. I've not worked with companies that have required a lot of reporting but I also feel that I should be doing more to give visibility to what my team are doing.
There are lots of great suggestions for updates you can provide to your own manager each week.
🌶️ Hot Take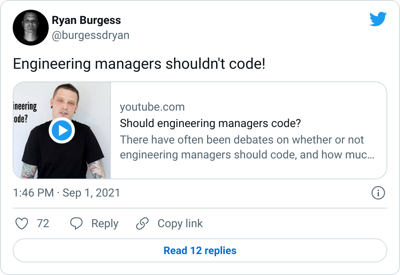 I'm not sure how spicy this Tweet from Ryan Burgess is but it can be contentious at some companies.
I feel like an Engineering Manager (EM) has too many other jobs to do which revolve around people and the projects the team is working on. If you have the capacity to code whilst being an EM, you're probably not doing the best job that you could be in other areas!
An EM could only code if they take on very small pieces of work that have no external dependencies and no deadlines. You'll only end up blocking your team otherwise.
What do you think? Should an EM still be developing software?
---
I hope you enjoyed this week's selection of intentional technical leadership articles.
Hit reply and let me know what you think.
Feel free to send me any interesting articles or podcasts you've found too.
Have an amazing week and be excellent to each other!
Speak to you soon,
Marc
Not signed up?
Enter your email below to sign up for my newsletter to receive weekly articles. Each week you will learn more about technical leadership, intentional remote working, and growing your leadership career.