#16 - Intentional Technical Leadership
Newsletter - Saturday, 23 July 2022
Hey my friend!
Happy Saturday! 🎉
Welcome to another issue of the Intentional Technical Leadership newsletter.
Thank you to everyone who reached out to me via email and send me their best wishes due to our family medical emergency.
I really appreciate all of your kinds words.
Life is still pretty up and down in the Littlemore house this week but I've managed to take a deep breath and deal with it.
I'm more mindful of looking after my own mental health than ever before. I'm balancing this with trying to be there for others. Mediation has really helped and you should try it too if you need a quiet space to gather your thoughts. It really calms a restless mind.
I've found some more interesting technical leadership reading this week. These articles are based on some great discussions within my company and with other fantastic engineering managers that I know.
Enjoy!
🔖 Interesting Reading
This article really resonated after my own personal crisis.
Engineering managers like myself are often seen as the support system for others but teams often forget that we're just human too.
We often take the weight of our team's problems onto our shoulders but we mustn't forget to take care of ourselves.
This is a great article which shares tips for leading teams authentically whilst dealing with personal problems.
Admitting your own vulnerabilities to your team can be seen as a weakness but I definitely don't agree. Sharing some of yourself helps your team to understand you and your own struggles.
A big thanks to my good friend Blanca Garcia Gil for sending me this article. I really appreciate you! 🙏
I don't think I'll ever stop having imposter syndrome!
I've worked in the tech industry for nearly 30 years but I still know that there's a lot that I don't know. Sometimes it can be overwhelming and make you feel like you know nothing.
Learning to deal with imposter syndrome isn't easy, but this blog post shares some ideas for reducing its impact.
Accepting that you bring lots of great skills and experience to a team really helps. Remember that when you're feeling imposter syndrome creep in.
Keeping an achievements document often helps me. Write down any great wins you've had with your team and look back at it from time to time.
You're great and you've got this. 💪
Thankfully I've not had to deal with performance problems with team members very often. Having open and honest feedback early on in your relationship really helps but sometimes you do need to take more action.
This article has some great insights on how you can help a team member to improve if they're struggling.
It sets out an interesting framework for improvement with 5 steps to help any team members to ultimately succeed even if they're not performing well right now.
Nobody should want their team to fail so this should help you to build a great relationship to get them back on track.
🌶️ Hot Take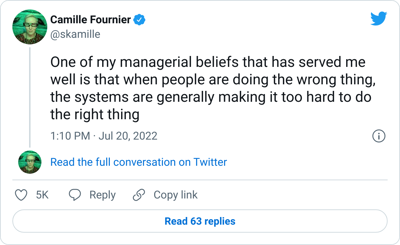 This is a great hot take from Camille Fournier, an incredibly experienced technical engineering leader.
I truly believe that people don't always struggle or mess up due to their own problems. It's the process that allowed them to fail that should be fixed.
This tweet takes that a little further and suggests that the systems aren't making it easy to do the right thing.
As a team you should always be iterating on what you do and making it easier for the team to thrive. If you find that anyone is having a problem, take a step back and see if there's something in their way. Is there a team or company way of working that could be changed?
We've all worked at companies that have "interesting" hoops to jump through in order to get things done. See if you and the team can help to reduce the friction to make everyone successful.
It'll make you feel better too. ❤️
---
I hope you enjoyed this week's selection of intentional technical leadership articles.
Is this newsletter still useful to you?
What's it missing?
Email me! I'd love to hear from you.
Feel free to send me any interesting articles or podcasts you've found too.
Have an amazing week and be excellent to each other!
Speak to you soon,
Marc
Not signed up?
Enter your email below to sign up for my newsletter to receive weekly articles. Each week you will learn more about technical leadership, intentional remote working, and growing your leadership career.