#18 - Intentional Technical Leadership
Newsletter - Saturday, 6 August 2022
Hey my friend!
Happy Saturday! 🎉
Welcome to another issue of the Intentional Technical Leadership newsletter.
How has your week been?
One of the questions I get asked a lot is "how do I transition from a software engineer/individual contributor to become an engineering manager?"
It's a tricky question as I think everyone's transition is different.
I started managing a team around 2007 but I don't think I was particularly successful. I transitioned from being a principal engineer into a "tech lead" role where I still wrote a lot of code and wasn't supported to manage a team well. I was good at coding and project management but not so great at ensuring I had a well supported team (in my opinion!)
I moved into a real team lead/engineering manager role around 2017 whilst at the BBC. This led me to really trying to understand what made a good manager and technical leader, and how I could help my team members to be more successful.
I need to write about my own journey on my website, but for now, I've found some insightful articles on the topic for you if you're looking at management as a career.
Keep reading and let me know what you think.
🔖 Interesting Reading
This is a great article written by Jason Lengstorf, the VP of Developer Experience here at Netlify.
It takes a good look at the different paths that engineers can take and how they can transition from an individual contributor to a management role.
He makes some really great points on how you might enjoy a management role and how that really differs based upon a company's culture and the individual's opinion of what the role should be.
I really like the idea of tracking what makes you happy in your day-to-day work to understand what energises you. Comparing this against job descriptions for management roles will give you a better idea of what you're looking and whether it matches your expectations.
Related to the above article, this is a great post written by Charity Majors, the CEO and cofounder of Honeycomb.io.
Charity writes brilliant articles about engineering management and the challenges of the role when you're a great software engineer.
She points out that engineering management is a different career and not the next step in the ladder for software engineers (although some companies treat it like that).
In the post she makes a great distinction between a "technical leader" and an "organisational leader". Both are completely valid career paths but they both come with differing challenges.
Have a good read of this article if you're thinking about the engineering management transition for yourself. And don't forget to take notes!
Another question I get asked is whether you need to have a "conventional" software engineering background to be a successful engineering manager.
This post shares some useful insights of non-traditional career paths into engineering management and technical leadership from a role other than that of a software engineer.
Whilst I don't always think you need to have had a really technical background, I do think it's useful to understand the needs of a software engineering team before becoming their manager.
People management is a key part of being a great manager but helping to unblock technical problems with some understanding of the domain is really useful. Even if you only know the basics, being able to have a grasp of the concepts of your team's work, and working out who to connect them to in order to answer their questions, is really helpful.
🌶️ Hot Take
This is spicy hot-take from Pat Kua. 😱
Some companies will set up their new engineering managers for success. They'll support them well and guide them in their role to ensure they get the best outcomes for their team and the business. However, some companies just throw you in the deep end of the pool and expect you to swim!
In his post, he shares some situations in which this might happen and offers some great solutions as to how to deal with them.
If you're new to an engineering manager role then this is a great place to start.
🙌 Great Job!
I've got to give a big shout out to Sam Rose who shared a fantastic team story with me this week.
He's recently stepped up into a team leadership role and was asked to run the team's stand up whilst their PM was on vacation. He ran the whole thing as a news anchor whilst completely being in character.
Check out the image: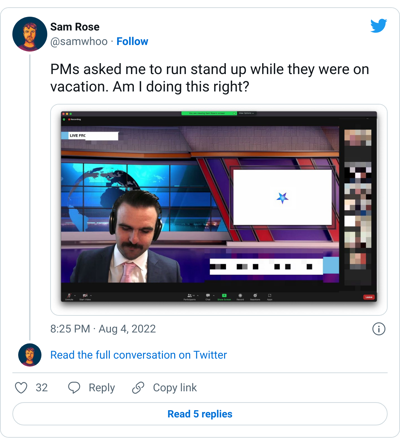 What I love about this is that he's building a great team culture. Yes, we all have to get work done but we can build rapport with the team with ideas like this.
Great work, Sam! 🎉
---
I hope you enjoyed this week's selection of intentional technical leadership articles.
Hit reply and let me know what you think.
Feel free to send me any interesting articles or podcasts you've found too.
Have an amazing week and be excellent to each other!
Speak to you soon,
Marc
Not signed up?
Enter your email below to sign up for my newsletter to receive weekly articles. Each week you will learn more about technical leadership, intentional remote working, and growing your leadership career.